News
From the Vicarage
Title: For Those in Peril on the Sea
Many of you will recognise these words. They come from the great Royal Navy Hymn: Eternal Father, strong to save. The hymn is a prayer for seafarers, and the first three verses end with the refrain:
O hear us when we cry to thee
for those in peril on the sea.
It is impossible to ignore the sea when you live in a place like Walton. The RNLI Respect the Water campaign reminds us of the power of the sea, and the disastrous and tragic consequences when humans fail to respect it. Our prayers 'for those in peril' are needed more than ever.
God knows and understands the sea because he made it. He knows its beauty but he also knows its power, for good and for ill. In the person of Jesus Christ, this same God lived and walked and taught by the sea. His first followers and closest friends were fishermen, who relied on the sea for their livelihood. They and he experienced the terror of a storm at sea, most famously in the passage where Jesus commands the waves and the wind to be calm (St Mark's Gospel, chapter 4). This is a scene depicted in our beautiful south window at All Saints' - why not visit the church and see it if you haven't already?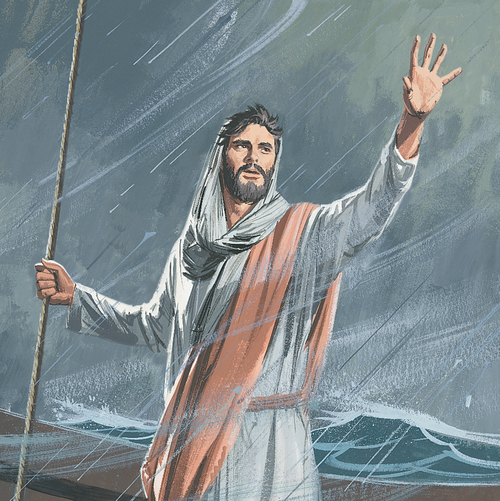 July 14th is Sea Sunday. Here at All Saints' we will be celebrating and giving thanks for all who spend their days and nights on the mighty waters, praying for them and for those who devote their lives to keeping others safe at sea.
The last verse of the hymn is a prayer for protection, and also a prayer of thanksgiving. Here in Walton, whether we be on land or sea, we will sing these words with added energy and joy:
O Trinity of love and power,
our brethren shield in danger's hour;
from rock and tempest, fire and foe,
protect them wheresoe'er they go:
thus evermore shall rise to thee
glad hymns of praise from land and sea.
Come and join us to celebrate Sea Sunday, with a Festival Service at All Saints' on July 14th at 10.30 a.m.
Please see the latest letter from the
Walton Foodbank here
Calling all musicians! January 2018
Make a joyful noise unto the Lord, all the earth :
make a loud noise, and rejoice, and sing praise.
(Psalm 98.4)
Making noise is something human beings have always been very good at. It's not always a pleasant noise we make, of course! But in the Bible, God is very clear that he wants us to direct our 'noise' in praising him.
Since the beginning, human beings have worshipped God using their voices; making (at their best) the most beautiful and enchanting sounds imaginable. And for many centuries, Christian worshippers have accompanied this singing with the largest and noisiest musical instrument ever invented: the organ.
The organ is justifiably called 'the king of instruments', and it should come as no surprise that it is also one of the most difficult to play. It requires a high competence of keyboard technique together with a great deal of pedal-work, and whilst it is very easy to 'make a noise' on it, there are not so many people who have the skill to make its noise truly 'joyful'!
Here at All Saints' we are blessed with a very fine organ and two excellent organists. But we would welcome more! — and, specifically, someone who might combine their organ and piano skills with helping to start a choir. If you, or someone you know, might be this person … please be in touch!
Peter Edwards
High Street
Walton on the Naze
Essex
CO14 8BU
01255 675351
Email Us