News
From the Vicarage
for 'Church and Town' — November 2019
Title: For your tomorrow we gave our today
On Remembrance Sunday, 10th November, thousands of people will gather in Walton's Memorial Gardens for our annual Act of Remembrance. You will recognise the above words from the Kohima Epitaph, usually read after the two minutes' silence.
The Battle of Kohima was fought by British and Indian forces against the Japanese between April and June 1944, and was regarded as an important turning point in the Second World War. The war cemetery in Kohima contains a memorial to the 2nd British Division, and on this monument is inscribed the full text:
When you go home
tell them of us and say,
for your tomorrow
we gave our today.
Those words are traditionally delivered by a young person; symbolic of the freedom that has been granted to our children, made possible only through the sacrifice of those who have gone before us.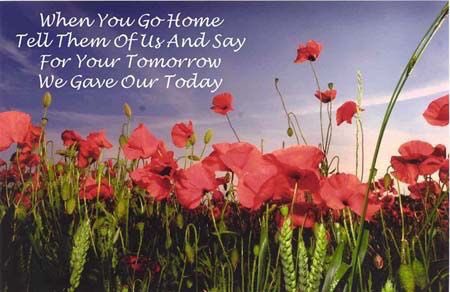 Each year, on Remembrance Sunday in particular, we pray that the sacrifice of those who have fought in world conflicts would not be in vain. We remember them with both thanksgiving and lament as we acknowledge wars past and present. We pray for those whose lives continue to be disfigured by war, and for those who serve as peacemakers and peacekeepers in God's world.
Two thousand years ago, God put himself in this war-torn world. He came to us in the person of Jesus Christ, the Prince of Peace. He came to show us how to live and how to love one another. The world did not receive him. He was put to death on a cross. But his death was not the end. He rose from the grave to show us that love was stronger than hatred, and life stronger than death. Jesus gave his life to bring us life. For our tomorrow he gave his today.
Come and join us at All Saints' on Remembrance Sunday, 10th November. We begin with a service in church at 10 o'clock, and then gather in the War Memorial Gardens for the Act of Remembrance from 10.45. I look forward to welcoming you.
Please see the latest letter from the
Walton Foodbank here
High Street
Walton on the Naze
Essex
CO14 8BU
01255 675351
Email Us